RADIUS
"Railway Digitalisation Using Drones"
The objective of the RADIUS proposal is to develop a drone-based technology (a) to monitor the physical status and electronic functionality of both non-safety-critical and safety-critical railway signalling assets and (b) to execute specific maintenance activities. RADIUS will focus on:
The identification of the best drone technologies to be used in the railway sector, considering mainly the signalling assets to be monitored, the characteristics of the lines, the maintenance actions to be implemented and the distances to be covered;
The design of the drone solution capabilities and related payloads to integrate: sensors and the data collection and processing capabilities, wireless secure communication channels between the drone and the peripheral post and to allow contact-less diagnostic and SW maintenance; EGNSS solutions for navigation and positioning enabling improved drones' flight control and safe movements in complex railways operational scenario, the most secure data transmission solution to guarantee reliable and secure data exchanges, and embedded data analytics to perform assets monitoring, maintenance prediction analysis, and repairing actions avoiding railway track possession;
The adaptation/redesign of the railway signalling assets to become drone-friendly for the maintenance activities include the design of a docking station;
The interaction with existing Intelligent Asset Management Systems;
The interaction with current Traffic Management Systems to improve the safe movements of drones within the railway;
The planning of drone mission strategies compliant with regulations and with the complexity of the railway environment to fly Beyond Visual Line of Sight;
The practical demonstration of a proof-of-concept (TRL 6) in a railway relevant environment.
The Project
The RADIUS project is coordinated by Hitachi Rail STS (Italy) and ZenaByte is responsible for the design and implementation of the data analytics task for asset management decisions. ZenaByte is also leader of the Work Package WP8 "Business models and use cases" aimed at 1) discussing and develop with stakeholders the possible business models to operate drones in railway; 2) defining the related use cases considering strengths, weaknesses, opportunities and tendencies (SWOT) of the identified business models; 3) continuously monitoring standards, norms and regulations of both the aviation and railway sectors to ensure compliance of RADIUS framework to emerging standards, norms and regulations and, consequently, its exploitation.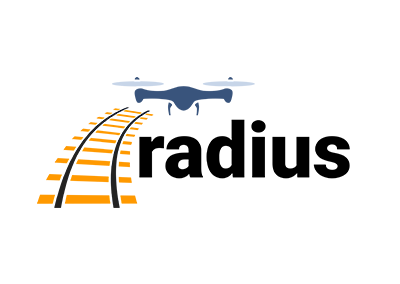 This project has received funding under the European Union's Horizon 2020 research and innovation programme under grant agreement No 101004192